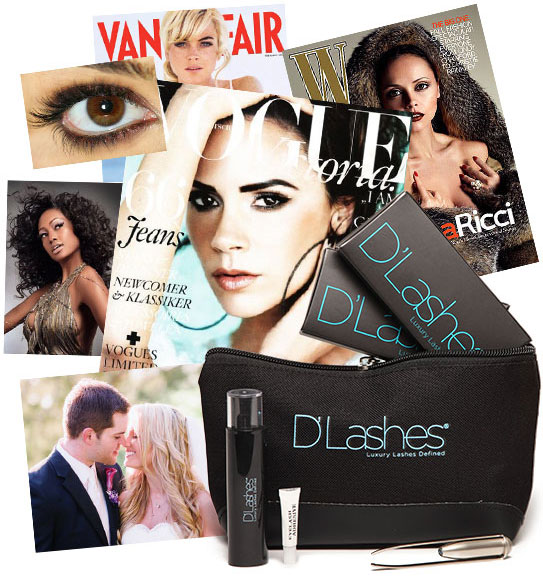 Pioneer of Eyelash Extensions
The Pioneer of Eyelash Extensions to Hollywood's A-List!™
"Dionne put the LASH in LA!"
After several successful years providing LA's most beautiful and durable eyelashes. Dionne Phillips decided to venture out on her own and make D'Lashes a reality. While working with a famous Beverly Hills salon, Dionne serviced clients like Victoria Beckham, Naomi Campbell, Paris Hilton, Lindsay Lohan, Renee Zellweger, Mary J. Blige and a host of others.
The salon features state of the art amenities and the kind of pampering you would expect and deserve. Take your eyelashes from thin unnoticeable eyelashes to rich, full, beautiful ones.
Dionne's Lashes are custom individual eyelash extensions that are attached to your natural eyelashes, lasting up to 6-8 weeks.  While you relax, the procedure is painless and takes approximately 2 hours. Whatever your choice of look, giving your natural eyelashes a full, long glamorous look.
Mascara can be a thing of the past.  Safe, Hypoallergenic and waterproof.  Easy to maintain, you can easily workout, take a shower or even swim in them.  Saving your time and money on mascara and fake strip eyelashes.
Schedule your appointment today!
About Dionne Phillips
Eyelash Extension Expert & Founder
"I Believe In Giving You The Hottest Lashes!"
Lash Out!, The Pioneer of Eyelash Extensions to Hollywood's A-List, Dionne put the Lash in LA! Customized Eyelash Extension Expert and beauty influencer.
Hollywood A-List
Dionne Phillips has been dubbed the premier authority in celebrity eyelash extensions and faux lashes. She began her career servicing clients such as Victoria Beckham, Naomi Campbell, Renee Zellweger, Lindsay Lohan, Mary J. Blige and a host of others while working at a well-known, prestigious salon. After several successful years of providing LA's most beautiful and durable eyelashes, Dionne decided to strike out on her own, launching D'Lashes in 2005.
Tucked away in a private, serene studio space in Beverly Hills, D'Lashes approaches lash design with a feminine, modern point of view. Dionne's goal is to create eyelashes that embrace fashion with an effortless elegance and confidence. D'Lashes encapsulates a fresh take on glamour, while Dionne's technique and meticulous attention to detail give women a "new lash on life."
Dionne has garnered editorial acclaim for both her lash styles and expert advice for celebrities. A Louis Vuitton City Guide favorite, she has made numerous broadcast appearances as an eyelash expert having covered pre-Oscar and Emmy fashion segments for Extra TV, Access Hollywood and Good Morning America. She has also been featured on The Doctors and Style Network. Leading Hollywood ladies and fashion tastemakers such as Jenna Dewan Tatum, Rachel Zoe, Serena Williams, Christina Ricci, Sharon Stone and Christina Milian, among others, flock to Dionne for her services, while her work has appeared in top publications such as Allure, Redbook, Town & Country and Vogue. In 2012, Dionne launched her own luxury product line including her signature eyelash kits, which provide her clients with the tools to get her signature red carpet-ready looks at home. Dionne continues to work and live in Los Angeles where she passionately helps women look and feel more glamorous one lash at a time.
For additional information on Dionne Phillips and D'Lashes or to schedule and interview, please contact: dionne@DLashes.com